A feed-in and crane protection cabinet DVESLY-1M-MV, is designed to supply power to electric equipment of the crane and to provide maximum current protection, overcurrent protection and protection from phase-failure of supply mains of crane motors.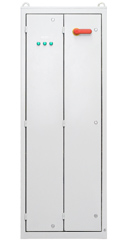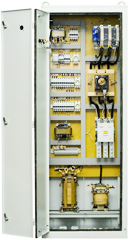 A feed-in cabinet is installed on a crane bridge close to infeed point on the crane (current collectors, cable drum, etc.). At small current loads up to 160A the cabinet can be installed in the crane cabin.
Complete delivery
A standard cabinet includes:
Lead-in disconnecting device with fuses and a lever on the front door;
Automatic circuit-breaker;
Main contactor of the crane;
Phase control relay;
Repair lighting transformer;
Crane lighting transformer;
Voltage indicators in each phase.
Custom-made design
A feed-in cabinet can be custom-made and can additionally include other protection, control and signalling devices like:
Amperemeters and voltmeters in each phase;
Automatic circuit-breaker with remote control gear;
Lighting in the cabinet;
Cabin heating transformer, etc.
If a lead-in cabinet is ordered together with a crane electric drive system and if the customer has no additional requirements, our specialists individually specify the necessary equipment configuration of a crane feed-in cabinet.