Many years of experience in the field of control system maintenance allow Dvesta specialists to provide diagnostics and repairs for cranes of any complexity and within short periods of time. Direct supply of components from producers located in CIS countries, Europe and around the globe guarantee the best pricing and true warranties for the components used. We understand the importance and responsibility of the works performed by cranes and put all the possible effort to facilitate their reliable and uninterrupted operation. Specifically for this purpose we offer the following services for plants and factories operating weight-lifting machinery.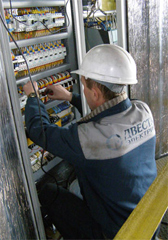 Planned quarterly maintenance of crane electric equipmentа
Quarterly crane maintenance is the key to successful and uninterrupted operation of electric equipment for many years to come. The maintenance services include:
inspection of all crane electric circuits and devices

replacements of expendable materials of air conditioners, ventilators

preventive dust cleaning of all devices inside the equipment cabinets (electrical rooms)
detailed review of cable hangers and passages for early detection of insulation or bogie wheel deprecations
checking alarm message archives (if applicable) and elimination of their causes
If necessary, our service engineers will perform electrical mounting and setup works on crane electric equipment with a possibility of changing the principle electrical scheme and making the corresponding entries into the crane passports.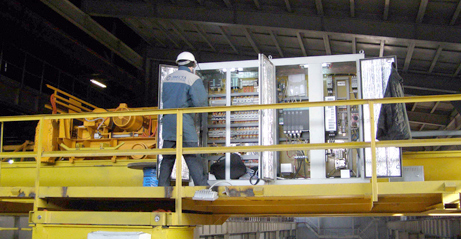 Service maintenance can be performed for all types of control systems, including: contactor panels, thyristor panels, frequency converter systems by any producers.
Our maintenance engineers have received training and have proven their experience in servicing the following frequency converter models on cranes:
Siemens Micromaster, Simovert, Sinamics S120, G120, Simotion, Simocrane и др.
Mitsubishi Electric FR-A, FR-E, FR-F, FR-V и др.
Schneider Electric Altivar 31, 61, 71, 71 Lift и др.
Control Technic Emerson
ABB ACS500, ACS800, ACS850, etc.
Sew, KEB, Toshiba, Hitachi, Yaskawa, Hyundai, Delta Electronics.
The quarterly crane electric equipment maintenance is performed by two service engineers. The works are carried out four times a year within two working days.
Emergency calls
In case of crane electric equipment failures, Dvesta maintenance engineers stand by to urgently travel to any point within the CIS and Europe in order to perform diagnostics and emergency repairs of the broken equipment.